Charlie Victor Romeo
Here at Gorgon Reviews, we like to break the mold. We like to consider ourselves on the cutting edge of reviews. The only thing we are really lacking is those press credentials. But that is not what we are talking about.
No! Instead, we are just going to look into genre-defying films. Yes, on Documentary Thursday of all days.
Charlie Victor Romeo is about plane crashes. Straight up. Not a fun topic for anyone. Everyone should know what a black box is. It records whatever goes on in the cockpit, creating an audio record in case shit hits the fan.
Charlie Victor Romeo, in a nutshell, is six different blackbox recordings before six different airplane accidents/incidents.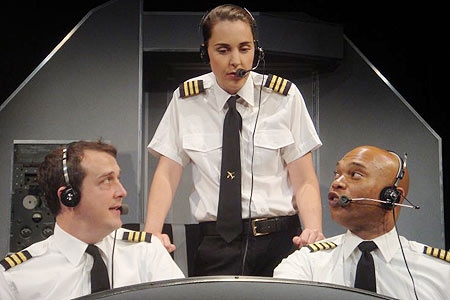 Black boxes. White pilots. Who'd have thought there'd be no grey area in a cockpit.
Obviously, you have to be in the right mood to want to watch a movie like this. Now, it isn't just the actual blackbox recordings. This is a documentary, not some audiobook. But when it comes to the genre defying characteristics, this is a theatrical documentary.
This is why we have some actors. A few people at a time recreate what the cockpit might have felt like during these moments, with the exact same conversation as it went down/almost went down and that is the entirety of it. It makes sense that this started out as a play, a pretty intense one at that. And then it became used for pilots in training! And then this movie.
It might help them discuss decision making, or whatever.
But assuming you are in the right mood for a movie like this, I would say overall it is still just okay. Some of the situations were good and tense. Some felt too long, maybe too boring, or just too confusing terminology wise. Some were a good length, intense, and great. It varies. But some might love its overall simplicity.
But hey, because it is acted, here are our actors! Sam Zuckerman, Debbie Troche, Nora Woolley, Patrick Daniels, Robert Berger, Noel Dinneen, and Irving Gregory!
Either way, this guy is on Netflix, and probably not leaving any time soon.
2 out of 4.