September 26, 2014
Brooklyn Castles
A lot of the times, for my weekly documentary, I try to plan them out weeks in advance. I get inspiration to watch them for any number of reasons, current events being the main reason. But every once in awhile, a documentary just looks interesting, knowing nothing about it. Just a random find.
For Brooklyn Castles, it came about just by literally typing in letters in the Netflix documentary genre search.
Brooklyn Castles is about chess and how a small random middle school in New York City has somehow elevated itself into a dominating player in the chess community.
The school is Intermediate School 318, because schools in NYC don't have real names. Many years ago an after school chess program began and it took hold in this community, where at this point there are at least two full time instructors to help teach chess and chess theory. Because IS-318 is the most winning junior high program in the United States and it isn't full of stereotypically nerds or a private school.
How can that be?!
That's right. Ethnic people are kicking ass intelligently and white people are not. Take that racists!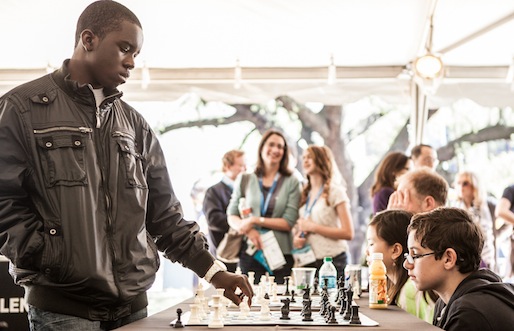 Boo sterotypes.
I am not even joking. They only have one white boy with glasses, and he is near the bottom of the team. This school has crazy high ranking kids. You need 2000 to be a master and 2200 to be a grand master. A big chunk of the story is about Rochelle Ballantyne, who went to high school right as the documentary had been starting. In Middle/High School, she was the highest ranked African American Female, and closest to being ranked a master, which had never been done before.
There is also Justus, a 6th grader, who chose this middle school for chess (because it is a thing) who became a master at the age of 12. The youngest age ever for a black man to achieve the title.
It is amazing what a little club or after school program can do. After all, in 8th grade I joined a chess club and went to one whole tournament. I did pretty average, but apparently got 4th overall in the "first real tournament category", and that was the end of my competitive chess career.
But it is also about how this school survived the economy crash of 2008. A lot of funding goes into the program and allows the poor kids to travel the country and compete in high level junior tournaments without breaking their home, but with NYC education cuts, they start to lose a significant portion of their money.
Which is what I guess the purpose of this documentary is. To save the arts and after school programs. To refocus our needs on making the future better for the kids and not cutting education. To show that success can come from the most unlikely of places.
All in all, I don't know how entertaining this would be without enjoying chess. But for those who do, prepare to be amazed.
3 out of 4.