October 11, 2018
Bad Times At The El Royale
I have never had a bad time at a place called an El Royale. Just saying, for some sort of context. I haven't been to any El Royales as far as I know. So neither good nor bad times have been had at any El Royales. I am an El Royale virgin. Or at least, I was before I saw this movie, Bad Times At the El Royale.
Alright, now that the nonsensical first paragraph, overall this felt like a movie that would be really enjoyable. I didn't know what to expect, but I liked the cast of characters and thought it could have some really fun and interesting scenes.
After seeing so many duds lately, and great films, I needed something that would just be entertaining. I really wanted this to fill that genre gap in my movie watching schedule.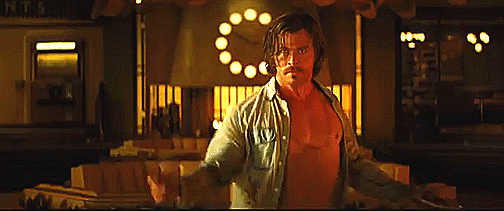 It did fill a Hemsworth sized whole in my heart. And that is a very large whole.
At the El Royale? Well, it used to be a happening spot. Lively nights, plenty of guests, and a lot of raunchy shenanigans. This hotel is on the border of Nevada and California. So it has a more expensive and classy side and a gambling side. A side for all the types who may want to visit. Now the hotel is almost in rambles. The front desk is basically just one person (Lewis Pullman), who also is the cleaning man, the bartender, and everything. A one man show.
And tonight? There will be some guests. We have Darlene Sweet (Cynthia Erivo), a potential singing star who has a secret. We have Father Daniel Flynn (Jeff Bridges), who seems to be losing his mind, and a man with a secret. There is (Jon Hamm), someone who really wants the Honeymoon suite, because he has a secret. There is the vulgar and unfriendly (Dakota Johnson), who clearly has a secret.
A lot of secrets, and a lot of bad stuff coming together. How are Chris Hemsworth, Cailee Spaeny, and Nick Offerman involved in the plot? Well, that's a secret.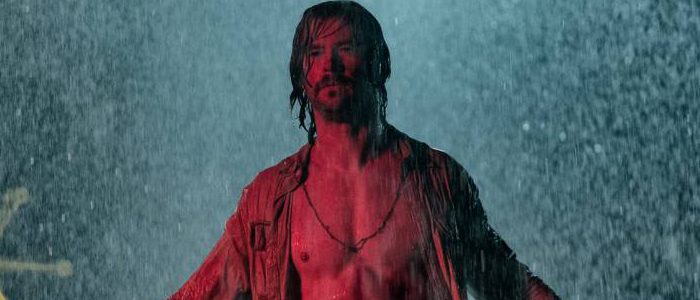 I'M SORRY. DID YOU THINK THIS PICTURE SPACE WOULD BE GIVEN TO SOMETHING THAT IS NOT SHIRTLESS?
Did you know that Bad Times at the El Royale is over 140 minutes long? Shit, this might as well be a Marvel movie at this point. Now of course if a movie is engaging and fantastic, the time doesn't matter. BT at the ER is in fact entertaining with some cool scenes. It has nice songs/soundtracks to encompass the scenes. It is told out of order from multiple perspectives to help unravel the mysteries and keep things fresh. It is really impossible to guess where it is going and how it will end. And yet, it also feels way too long.
Sure, different perspectives is fun, but that does mean we have to see some scenes multiple times. And there is a lot of backstory at times that are cool for building characters, and at the same time, not always necessary.
I really enjoyed Hamm in this film. He was a combination of some of his previous roles and it was definitely a good fit for him. Potentially it can be used as an audition for an eventual super hero! Johnson was acting like someone completely different in this film and it was refreshing. Erivo knocked it out of the park for me in the film, she was the real star, in so many talented ways. And hey, Pullman was interesting as the, well, lobby boy. I actually thought it was maybe Tom Holland pushing some boundaries for most of the movie.
BT at the ER is a fun film, a different film, a Quentin Tarantino lite film, and one that will please a lot of fans. Especially those of Hemsworth. It just needed a lot more editing and maybe a more focused outcome by the end.
2 out of 4.