Are All Men Pedophiles?
Well then.
This documentary is brought to us by Netflix, where apparently there are documentaries called Are All Men Pedophiles?
That's a title if I ever saw one. Just kind of, goes out and asks a bold question. It doesn't make the claim, just asks the question. But it is still a very very eye catching title, so in that aspect it is doing the job it meant to do.
Are All Men Pedophiles? is only about 70 minutes long, so if it is going to answer that question it had to move quickly. But before it could answer that question, it had to delve into what the actual definition of a pedophile even is. My personal definition comes out of Great Britain, with the Paedofinder General (here and here). Ah, what great amazing satire.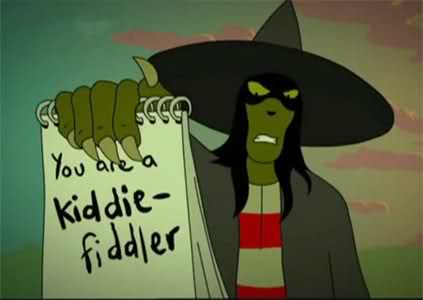 You didn't think I'd actually search the movie title on google for images did you?
I don't want to be put on a list.
Well, the short answer to the question is no. Of course not. How could all men be pedophiles? That would be ridiculous. It did however imply that all men are ephebophiles though. What is that? Sexual attraction to mid to late adolescents, basically 14 year olds and highers. Aka people who have reached biological sexual maturity, but are not classified as adults in whatever country you live in.
There was a lot of evidence for this too. It went into the fashion industry, media, history, pre-history, biology and other science to help explain this all. To be honest, it all also checks out and seems pretty truthful. I found points it made hard to argue.
The end went interesting places as well, sort of defending pedophiles as its own mental condition. They don't think anyone should be having sex with pre-pubescent children, no. But they do think that someone who is a non acting pedophile shouldn't be looked down upon by society, given the fact that it isn't a choice to love a certain person or gender or type. It's all biology.
However, this is one of the worst put together documentaries I have ever seen. It repeats information constantly, not in a helpful way, but literally as if they never said it. The use of actual news footage was pretty awkward the way it was presented. All of the guest scientists/talkers felt awkward as well, no one really having any sort of charisma. It faded to black and used title cards. It was just seriously a piece of shit.
Which is sad, because it has great information in it. It points out the double standards in society and the absurd sexual offender list. The information, unfortunately, is just put together in a basket made of shit.
1 out of 4.