February 7, 2012
A Very Harold & Kumar Christmas
Finally, the long waited next Harold And Kumar movie, that technically no one saw coming. I mean, a Christmas movie? Have they jumped the shark? The first one is often seen as a pretty funny movie, with a sequel that is kind of lame in comparison. At least they kept the the anti-stereotype humor in the second movie, but that had enough mehh and overly outrageous moments to make it lackluster.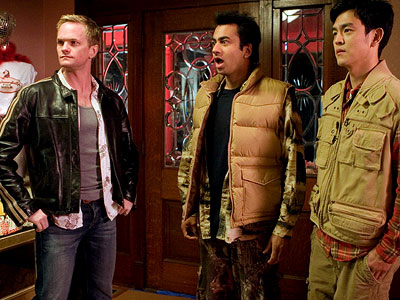 And they killed off Fake NPH, if only kind of.
This movie takes place six years after the events in Guantanamo Bay, and Harold (John Cho) and Kumar (Kal Penn) don't really talk anymore. Harold is now married to his elevator crush Maria (Paula Garces) and living in a suburban home, a wealthy job, trying for a kid, and trying to impress her Mexican family and dad (Danny Trejo). Oh yeah, and he is forced to be friends with fellow suburbanite Thomas Lennon.
Kumar is still a slacker though, living with new roommate Amir Blumenfeld, who seems obsessed with trying to deflower this woman of questionable age. He also has significantly less characters in his plot that I deem worthy of tagging. Oh well, he wants to get back with his ex, but he has to change his life a bit. Because she is pregnant. Someone mysteriously leaves a package for Harold at Kumar's door, forcing him to visit his old friend to deliver it.
And it was a joint! Yay! And it accidentally helps burn down their epic Christmas tree, putting him in a position where Trejo might kill him, unless he can replace it before they get back from Christmas night mass. This leads to a series of adventures, involving the return of NPH, Santa, the mob, claymation, and Waffle Bot.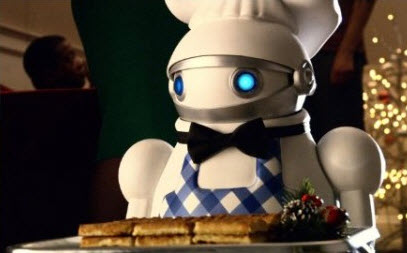 A dangerous, yet effective "toy".
Obviously this movie is a parody upon itself and Christmas specials. It felt short though, despite still clocking in at 90 minutes. I know why new characters were brought in, six years, new lives, but they weren't as good as one would hope. But the return of old characters is a nice surprise, and they do a good job of creating almost "inside jokes" that you would only get if you know a bit about the actors (namely NPH and Kal Penn).
Also a big part of the movie is the 3D element, which for most movies seem like a cheesy element, cash grab, or completely unnecessary. This is technically no different, but every 3D "Scene" seems to just be mimicking the industry in general, giving it better comedic value. I didn't get to watch it in 3D my self, but it is definitely obvious watching the movie.
Overall, I'd say it was better than H+K2, not as good as the first movie, but still its own decent stoner parody of Christmas, 3D, and life.
2 out of 4.