June 24, 2015
A Deadly Adoption
Although the circumstances are quite rare, every once in awhile I review a made for TV movie. The last few I did include Mr. Hockey: The Gordie Howe Story and Liz & Dick. The former I did as an accident, as I actually thought it was a documentary going into it. The latter I did only because it stared Lindsay Lohan as Liz Taylor, which just sounded hilariously bad so I had to give it a gander.
I generally avoid them if possible, because one of the best insults I can give a poor quality movie is comparing it to a made for TV movie. Their budget is lower, they usually have a shorter production window, and the tend to feature overacting and bad editing. After all, if it is on TV, you can't show or say a lot of things to keep the rating down. If you wanted to be even more insulting you would refer to something as worse than a Lifetime TV movie, often considered to be bottom of the barrel, along with Hallmark films.
So why am I knowingly reviewing A Deadly Adoption, a few days after airing for the first time on Lifetime?
Well, that is because they are adding all the bells and whistles for this movie! They are celebrating 20 years of Lifetime movies, of overly sappy movies about women getting hurt, by making a parody film of their own films. It takes a lot of gumption to see you are a laughing stock and decide to run with it.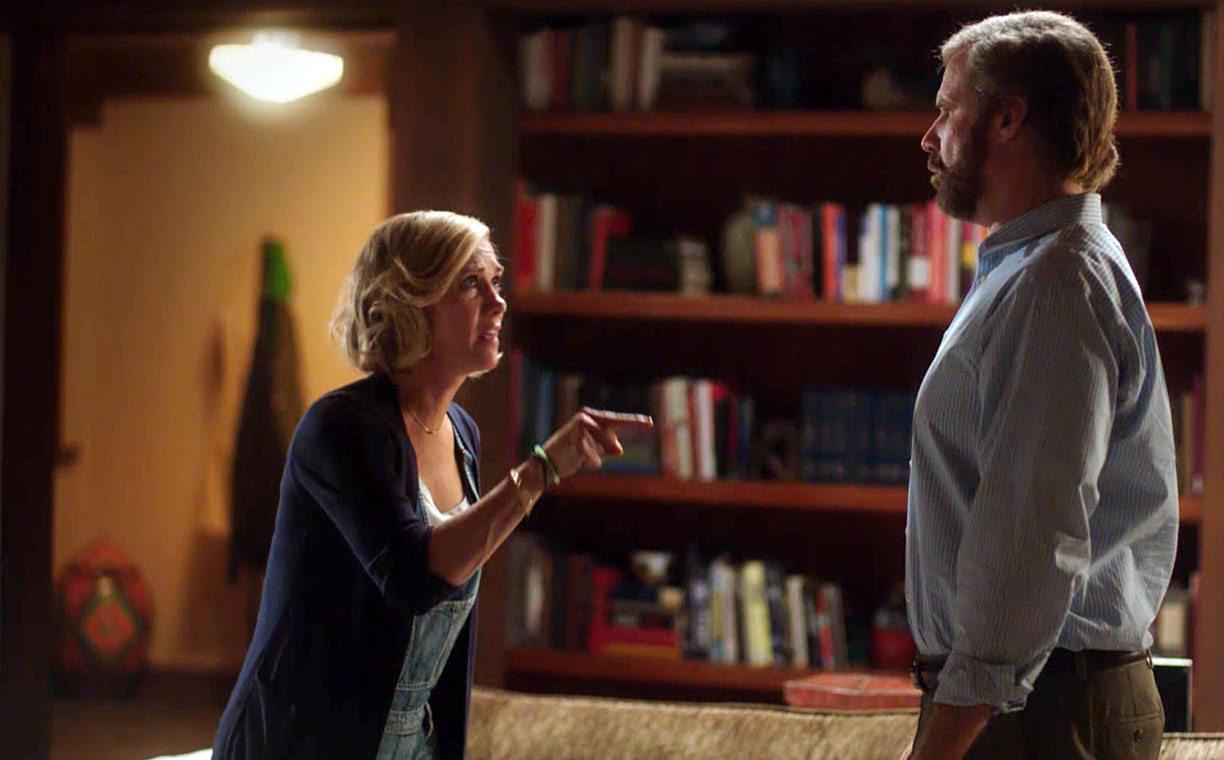 Speaking of gumption: facial hair.
Life is wonderful for the Benson clan. Robert (Will Ferrell) is a successful author and kicking butt, Sarah (Kristen Wiig) is pregnant and going to start selling organic vegetables to other cool kids, and their daughter Sully (Alyvia Alyn Lind) is well, a child. Everything is like a 1950's white American suburb home, until Sarah falls off the dock and starts to drown in the water. Sure, her heroic husband saves her, but they lose something else in the process. The pregnancy is terminated. Oh noes!
Now, five years later, things are different. Robert still writes, but he is afraid of boats and leaving home. Sarah has her successful shop, but is sad that her husband won't get over it. And Sully is older, but still a little girl and who cares. But they decide they should adopt a child, that might help everything! After a lot of searching, they find Bridget (Jessica Lowndes), who is pregnant and looking for a kind family to take in her child. However, she is living in a shelter and doesn't have a lot of money. So they decide to bring her in until the baby comes out letting her stay in the guest room.
Everyone is happy! Unless. Of course. Bridget is not the nice girl she appears to be.
Also with some dudes, Jake Weary and Bryan Safi. They are not pregnant nor are they adopting.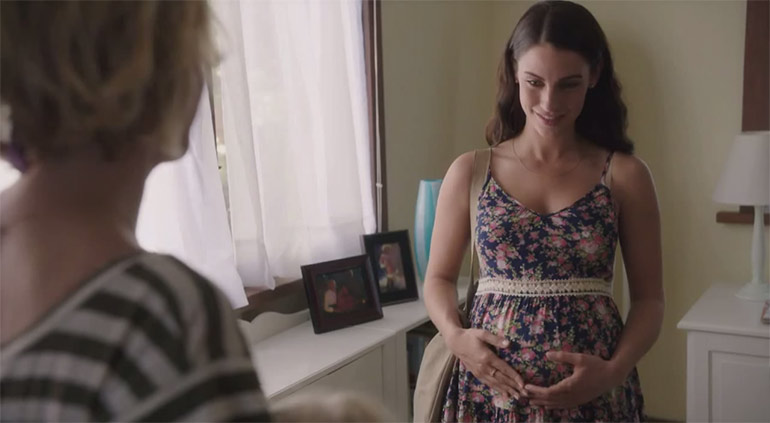 Now where they pregnant and adopting, which is a rare but probably real category of people.
If there is anything the last 15 years of terrible movies have taught us, it is that the parody film is a hard movie to get right. It is very easy to make a movie full of references to popular culture while none of it is remotely funny. You know those films, so I won't talk about them. But then there are very good unique parodies that are also celebrating the genre they are mimicking, so you can tell there is real heart behind the content.
A Deadly Adoption ends up being a mix of both. No, it is not full of pop culture references, thankfully. But it also doesn't go to the extremes necessary to drive its point home. It is definitely aware of itself, and things are over acted with scenes overly dramatic. But it still lacks a huge amount of humor, despite its attempts. Outside of the intro and the last ten minutes, most of the film dragged on. Because it is a parody, it can be hard to differentiate between what is bad and what is supposed to be bad, to be funny. For the most part, the jokes just didn't land.
Again, I will note the beginning and ending were fantastic though. They just didn't know how to make the middle live up to its ends. The film would have been funnier if it was more outwardly aware of itself, instead of giving for all intents and purposes, an actual lifetime movie.
2 out of 4.