9, or by its other title of "Little Big Planet: The Movie" is probably the best looking "animated" movie I have seen on Blu-Ray. Too bad the ending sucked.
Only 10 voice actors were needed for this movie, because as expected, a post apocalyptic film wouldn't have many characters (I'm looking at you Book of Eli). The main doll is voiced by Elijah Wood, who is much more enjoyable at talking to dogs than being a hobbit. It also features Jennifer Connelly and John C. Reilly.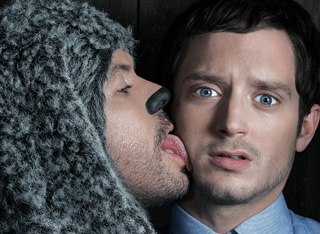 "Why yes, I do enjoy the path my career has taken post LOTR."
But the ending is not at all what I expected. Here is a spoiler! When 9 returned to the first room to see the video, he finds outthat the Machine is lacking a human soul. Wait a minute, aren't all of the dolls made up of a human soul? Yes. Before 5 dies he says the other eaten dolls are still alive, but just in the machine. Huh.
Maybe it is just me, but how does that not make it seem like they were made to be sucked into the machine, so that he won't be corrupt and can actually make a better future/rebuild the world? Instead, he somehow interprets all of that as a "This is how we can destroy the machine!" leaving just 4 stichpunks and some rain after they succeed. WTF?

3 out of 4.