January 29, 2013
1313: Cougar Cult
Let me tell you a little story. Redbox free rental codes mean one thing normally. It means I can get some fucked up random movie and see how it is without feeling bad. The last time was Zombies Vs. Strippers. But this time I wanted a real movie! But the red box I looked up and planned for was closed, had to go to a close one nearby, none of the ones I wanted were there.
So I got 1313: Cougar Cult instead. Clearly that name alone, it must be some sex based horror movie with middle aged women.
But I was wrong. I was oh so very wrong.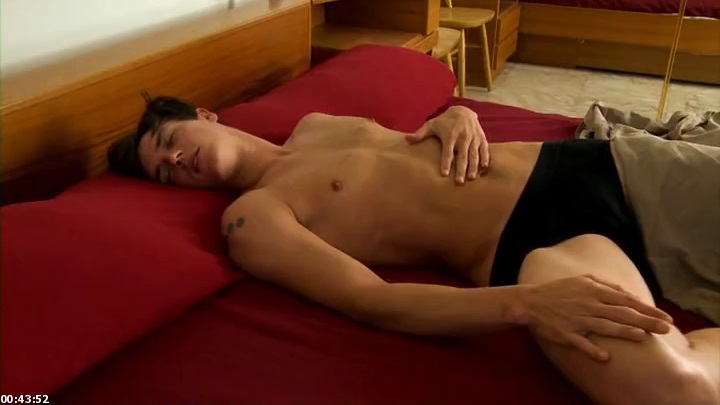 THIS IS WHERE I START TYPING IN ALL CAPS.
ALRIGHT, SO THESE THREE WOMEN ARE ALL LOUNGING IN THEIR GIANT MANSION (Linnea Quigley, Michelle Bauer, Brinke Stevens).
AND THERE IS A POOL CLEANER. BUT BEFORE HE LEAVES HE NEEDS TO SHOWER, FOR HIS GIRLFRIEND.
HIS SHOWER LASTS A LONG TIME. I MEAN, MOST SHOWERS DO, BUT IN MOVIES THEY NORMALLY DON'T SHOW SO MUCH SHOWERING. I THINK IT WAS OVER 4 MINUTES OF SHOWERING SPLICED WITH THE WOMEN WALKING AROUND WITH COUGAR NOISES THROWN IN.
THEN HE GETS CHASED BY COUGAR SOUNDS. THE GIRLS EAT HIM. PRESUMABLY OFF CAMERA, AND SOMEHOW IT IS SUPPOSED TO MAKE THEM YOUNGER, BUT IT DOESN'T WORK.
SO THEY HIRE THREE NEW COLLEGE GUYS FOR THE SUMMER TO COOK, MASSAGE, AND CLEAN THEIR POOL. THEIR SEDUCTIONS COMES AT NIGHT, OR WHENEVER THESE GUYS SLEEP. THESE GUYS SLEEPING OF COURSE IN BOXER BRIEFS OR WHITEY TIGHTS ABOVE THE BLANKET. THESE SEDUCTION DREAMS MAKE THE GUYS FEEL ALL SUPER UNCOMFORTABLE, AND JUST LAY IN BED, GROANING, AND ROLLING AROUND. THIS ALSO LASTS FOR A LONG TIME.
OVER AND OVER. OH HEY ANOTHER SHOWER SCENE. OH HEY, SLEEP TIME SEDUCTION AGAIN. OH HEY, PLOT? WHAT PLOT?
EVENTUALLY THERE IS A REAL RITUAL, BUT THE "NERD" GUY STOPS THEM. HE PUTS THEIR LOCKET ON A FOREHEAD, AND THEY ALL DIE IN SMOKE OR SOMETHING. ALSO THEY CAN TURN IN TO COUGARS KIND OF.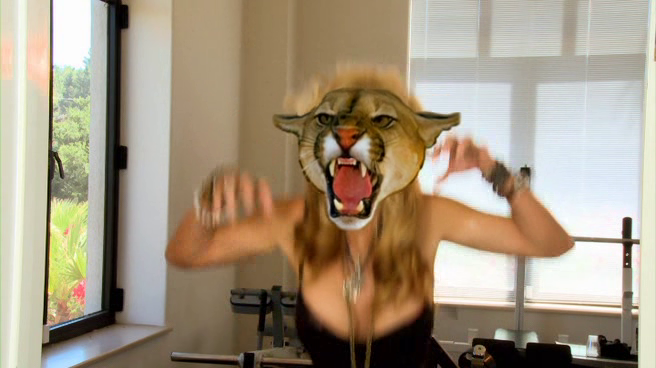 THIS IS AN ACTUAL SCENE FROM THE MOVIE. THIS IS THE FULL EXTENT OF TURNING INTO A COUGAR.
Okay, I am done yelling.
Yes, it looks like I have been tricked into buying some sort of gay soft core porn. Soft core porn is of course the act of sex, but nothing shown below the belt. This has no sex in it, and nothing shown. Just a lot of guys showering, and having nightmares in their sleep. Then eventually running around in said underpants.
What!
I know what you are thinking. Is this movie so bad it is good? No it goes beyond that into the dark realms of badness. I think this was filmed in a day. The night scenes where they sleep are bright as shit from the sun.
But also roughly nothing happened in the 75 minutes. They filmed the women walking around, posing, with cougar noises, and maybe doing a small ritual. But that filmed scene was used four other times in the movie, identically, in the same order, spliced with guys showering or laying in bed. The women even changed clothes eventually, but they used the same scene, with strange music and cougar noises.
Fuck! These women are supposedly famous for being scream queens in the 70s/80s or something like that, but they do about nothing in the movie. They turn into cougars twice, it is unsure as to why they have these powers. It is vague how their immortality thing works.
I also learned after the fact that the 1313 part of the name comes from a series of films from the same director. All featuring men in underpants for long periods of time. Yet each one of them probably also has a suggestive title making you think it is not at all what the viewer would expect.
It was so bad, I won't even recommend that you see it for yourself. Just take my word on it. Avoid the film! Avoid it!
0 out of 4.