May 25, 2017
Pirates of the Caribbean: Dead Men Tell No Tales
It has been six years since we had Pirates of the Caribbean: On Stranger Tides, six years! That was back when my reviews were extremely shitty, not just shitty.
And yet, I still like the original film. The second film pissed me off so much that I didn't watch the third film. And hey, in these six years, I still have not "gotten around to it". Fuck the second film.
But again, new people, new pirates, some more Jack Sparrow, and Dead Men Tell No Tales is ONLY a little bit over 2 hours, not a complete marathon like the rest of them. Fine. You have piqued my interest once again, what can you give me? Something good, I hope?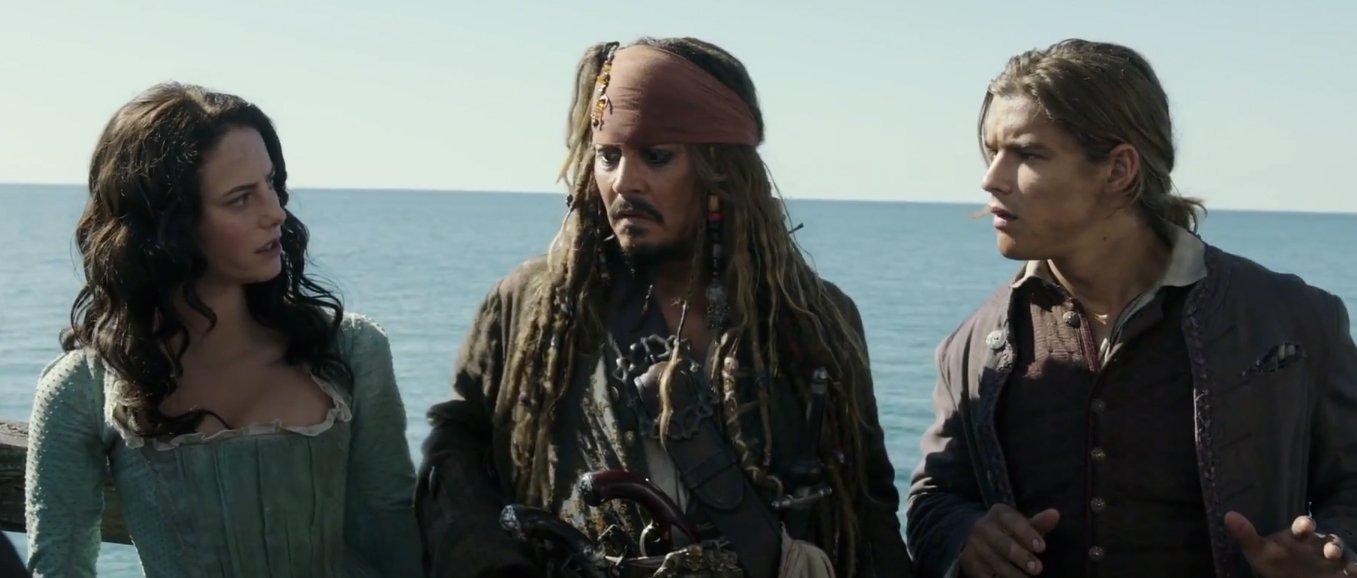 Shit, this just looks like the first movie now…
Before the movie can truly begin, you have to be treated to some weird ass flashback, with a boy named Henry looking for a lost ship. That ship? The Flying Dutchman. On that ship? Apparently an older and crusty looking Will Turner (Orlando Bloom). And this boy is his son, from Elizabeth (Kiera Knightley). I have been told all of this is explained in the third film, but you will be confused as fuck without that knowledge.
Then we get a film really beginning, with Jack Sparrow (Johnny Depp) and some crew (Kevin McNally, Adam Brown, Martin Klebba) robbing a bank! Also in this same town is an older Henry Turner (Brenton Thwaites), recently arrested for being the only surviving member of his crew. He claims a ghost ship led by a Captain Salazar (Javier Bardem) took them out, and he wants to get Sparrow. Also on this island is a "Witch", aka a girl who knows some science, Carina Smyth (Kaya Scodelario), who wants to find Neptune's Trident thinking it is her destiny thanks to some orphan shit. Oh hey, Henry also wants the trident to free his daddy. And Sparrow wants to not die to a ghost pirate looking thing, great! Team work! Fun!
On that note, I put most of the plot in that one paragraph!
But I left off Barbossa (Geoffrey Rush), who is basically a pirate King at this point, rich, glorious, no problems in the world. Until that Salazar gets to him and is about to take him out, until he agrees to help him find Sparrow. Turns out Salazar is not a ghost pirate like one would assume, but instead a pirate hunter who was bested by a young Jack Sparrow!
And yeah, Neptune's trident, that is the goal this time.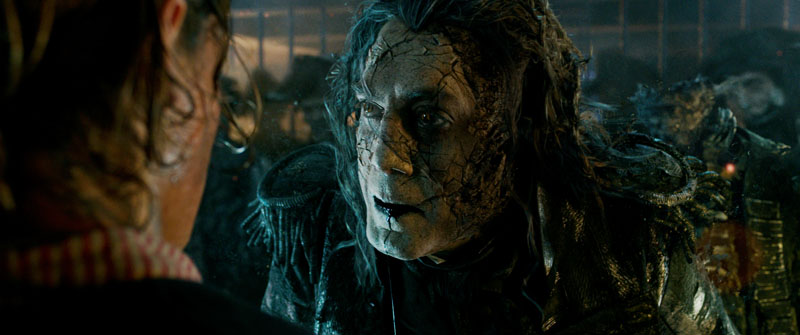 Remember, he is not a pirate ghost, he is a pirate hunting ghost.
The last two pirate movies must have started the same way: "Hey, people liked Turner and Swann, let's bring them back but with younger actors and the same old Jack Sparrow!" Because hey, we got a young guy that looks like Turner, and a girl in a corset dress, so all the same demographics can be met. These films all feel like the same damn thing now. After they introduced tentacle face as a bad guy in number two, it seems like we need a weird and terrifying supernatural villain for anything to work.
And honestly, this movie was putting me to sleep. Dabbed around the movie were a few interesting scenes and shots, but it was an effects driven film with really poor pacing issues and a lackluster plot. If you are not familiar with the third film too well, the beginning will be quite terrible. I mean, I figured it out quickly, but it still started the film on a slow point. The bank heist scene was very similar to Fast Five, with a more comedic twist.
But the villain was, for the most part, pointless. A stitched together plot as a way of giving us a Jack Sparrow origin, which no one is asking for. What's worst? Their decision to tell of Salazar's backstory with Sparrow was just SO. POORLY. PLACED. And interlaced with poor Bardem having to awkwardly growl out his lines as a camera moves around his face, while everyone else is on a boat just probably thinking "what the fuck, why are you doing this right now?" He was monologuing to one person, who also gave no fucks.
And finally, when it comes to poor plot, they just had to make everyone related to someone else it seems. Except for poor Sparrow, who just had to be related to whatever actor they got to play his younger self for a few minutes.
As for the Sparrow character, he really sucked in this movie. I cannot tell if he has always been this bad, but in the first film I thought he was a jerk, but charming and really confident in himself. In this movie, he just felt like a drunk fool the entire time.
Okay graphics, bad plot, bad pacing, bad film. I also have realized that this movie is coming out the same weekend that we got Alice Through The Looking Glass last year. That was bad, this is just not good. But they both have a Depp in common.
1 out of 4.