Tour De Pharmacy
A couple years ago, I saw an ad for 7 Days in Hell while using HBO and I was instantly drawn in. I had to watch that movie RIGHT AWAY and review it ASAP. It looked magicial, and really, it was.
I didn't know it was so short, only 40 minutes. I didn't know it was to poke fun at the ESPN documentary series. But I went in, it was short, but I still called it a film and had an okay review.
And now years later, I saw an ad for Tour De Pharmacy. This time I was older, a bit wiser, a bit smarter, and a bit less repetitive. I knew what I was getting in to, and thus I was excited. Why can't lightning hit twice?
And look, we have more athletes now than a single tennis match!
Tour De Pharmacy tells the story of the 1982 Tour De France, and all of the bizarre happenings that occurred during the race. Including the first time that someone died on the race!
Due to plot reasons, a lot of bicyclists in the race ended up getting eliminated really early on, as it turned out they paid bribes in order to avoid being drug tested. Like, a lot, a lot. As in, only five bikers remained.
We had Slim Robinson (Daveed Diggs / Danny Glover), nephew of Jackie Robinson, who wanted to be the first black athlete in some sport, so he was the first black athlete to compete in the Tour De France! There was Adriana Baton (Freddie Highmore / Julia Ormond), the first woman to compete in the race, but no one knew it at the time, as she pretended to be a man in order to qualify. There is also Marty Hass (Andy Samberg / Jeff Goldbloom), who is actually the first African to compete in the race. Yes he is white, and was an aristocrat, and it pisses off a lot of people that he has taken that first away.
The other two members of the pack were Juju Pepe (Orlando Bloom), a native Frenchman and actual famous bike rider, and Gustav Ditters (John Cena / Dolph Lundgren), a giant muscle man who didn't fit the normal physiques that one would expect from a bicyclist. Along for the ride is Rex Honeycut (James Marsden), a journalist who will bike alongside the pack, in order to give in person interviews as the race happens!
This also features a slew of other actors, some playing themselves, to tell the story of the 1982 Tour De France: Adewale Akinnuoye-Agbaje, Kevin Bacon, Lance Armstrong, Maya Rudolph, Mike Tyson, Will Forte, and narrated by Jon Hamm.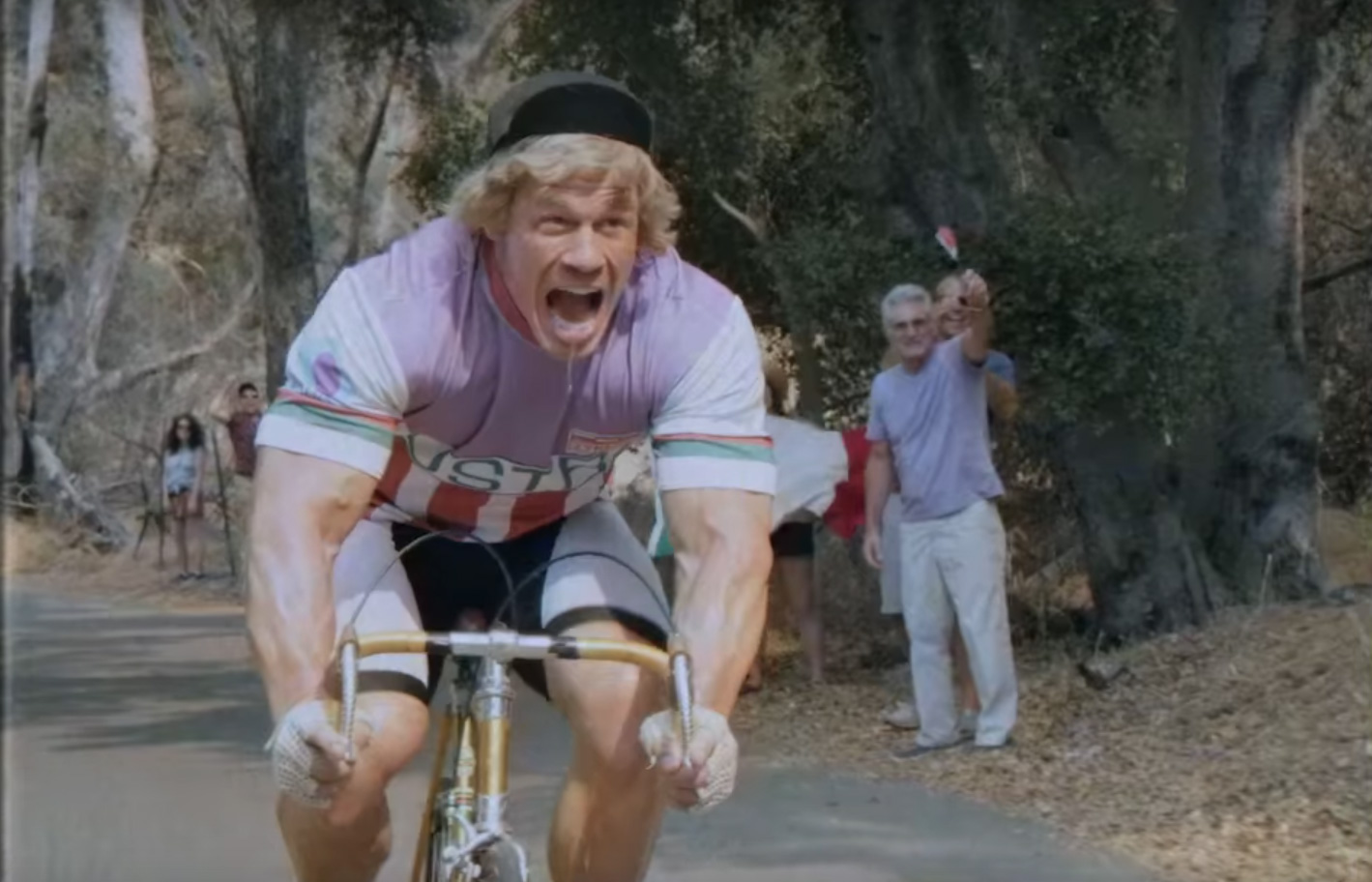 The more arm muscles have, the faster you go on a bike. It's fucking science!
If you liked 7 Days in Hell, you will like this movie! If you didn't, you won't. Pretty simple. Of course, a whole mess of you might not have seen the first one, so I still have to talk.
Honestly, this is just an absurd parody movie, I love it. It is short, so some of their jokes and moments don't ever get to go into depth, and that is probably where it excels. After all, there is only so much stupid stuff they can throw in it before a viewer might get tired of it all. I think it was just the right length and zany to amuse the shit out of me, possible amuse the shit out of me over multiple viewings.
Now, despite that? Yeah, there are still some dull parts as well. The film even comments on it, as there were long boring stretches in the actual race that caused viewership to drop tremendously, in the fictional recounting. Making it meta and commenting on the progressiveness however, still didn't do it for me.
Also, well fucking done Lance Armstrong. His role as hidden informant was a joke that just kept on giving, it surprisingly never got stale. All of the cameos were pretty funny.
Tour De Pharmacy is a relatively smart and quick laugh thrill ride, with only a few moments of slowed traffic to catch your breath.
3 out of 4.