Smurfs: The Lost Village

The Smurfs and The Smurfs 2 were met with a lot of mixed results, especially on this site. But you know what? A lot of things really worked.
Like Hank Azaria as Gargamel. He was great as the voice and character himself and felt perfect. I also enjoyed Neil Patrick Harris as our human contact.
But the sequel bombed because it was a poor movie. However they blamed it on the real actors for whatever reason and promised that the next Smurfs movie would stay in Smurfs land. No real people, just CGI for everyone. And now we have Smurfs: The Lost Village as a sort of reboot on the franchise where people won't realize that things are different.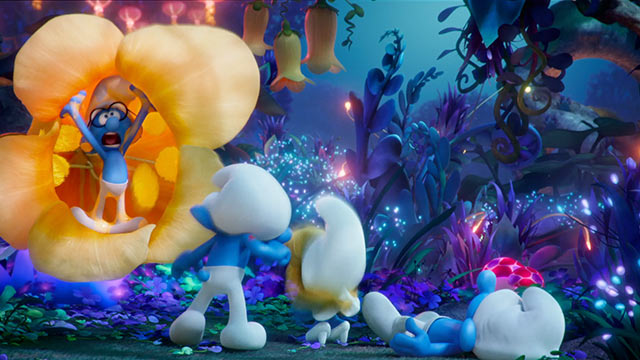 Hundreds of smurfs, and we will only focus on a handful of course.
In this movie we are reminded again that Smurfette (Demi Lovato) was created by Gargamel (Rainn Wilson) to find the smurfs and be evil, but Papa Smurf (Mandy Patinkin) did some of that smurf magic to make her blonde, and thus, nicer. However, Smurfette feels weird because she doesn't know what her smurf talent is. After all, all the men smurfs have an adjective to describe their talent, but her talent is just being a girl I guess.
After some fun time, Smurfette, Brainy Smurf (Danny Pudi), Hefty Smurf (Joe Manganiello), and Clumsy Smurf (Jack McBrayer) find some other smurf like thing who runs into the forbidden forest, blocked by a huge wall. And through some plot, Gargamel finds out that in that forest is a hidden smurf village that no one knew about before. If he can't get the close smurfs, he might as well get the ones that don't even know he exist!
So now these smurfs go out on an adventure, alone, to try and race to the lost village to warn the smurfs about Gargamel before it is too late.
Also featuring Ariel Winter, Dee Bradley Baker, Ellie Kemper, Frank Welker, Julia Roberts, Meghan Trainer, and Michelle Rordriguez.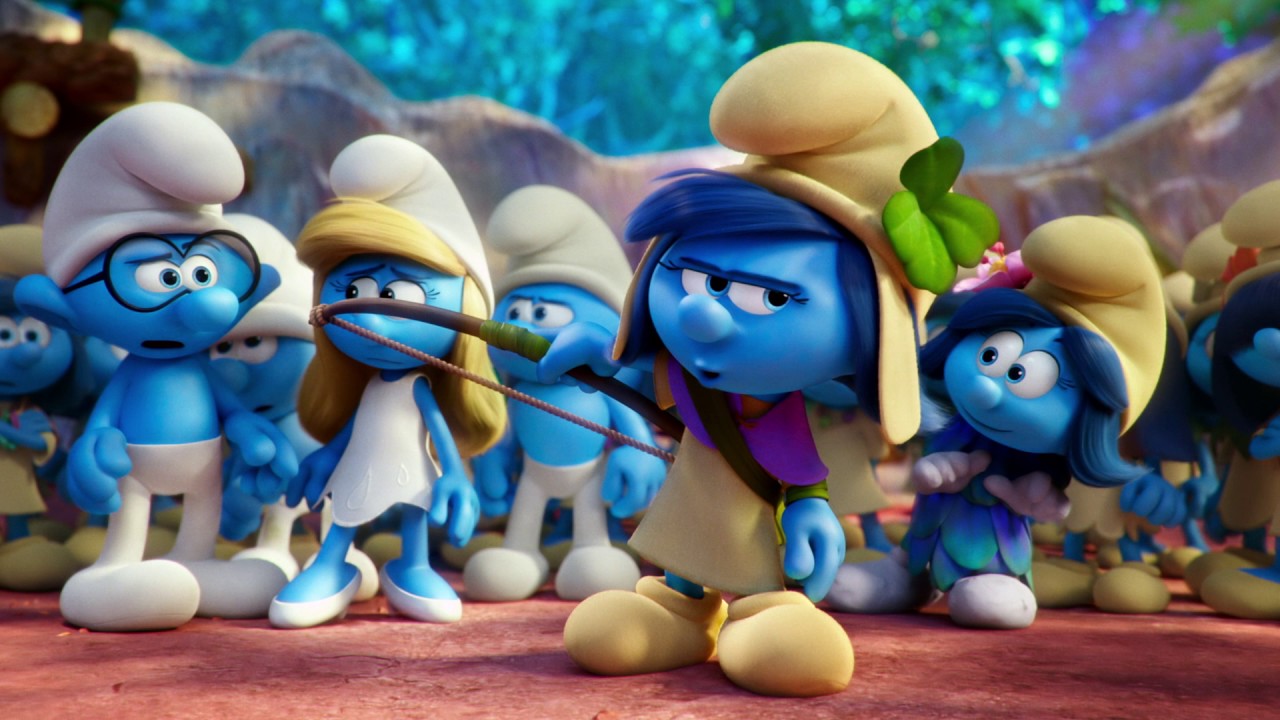 Blonde just has to stand out I guess. Blue all the way down otherwise.
Why is it really that whenever we get a smurfs movie, they can only handle an actual handful amount only, and never like 10 or more? Oh we get one off jokes for a few of the smurfs. Vanity and Nosy got a few jokes I guess, but everyone else was one scene and done for the most part. Such a goddamn waste when there are like a hundred of them. Such lazy writers. Clumsy being there is just for comic relief, at least Hefty and Brainy have a purpose.
Wilson does a terrible Gargamel. If Azoria was never Gargamel in the past, I don't know if I would be saying that, but at least comparison, it is so much worse. It just feels like some dude talking, not an evil grouchy balding wizard. He has lost his snarl in this movie and never feels threatening.
The story itself is just so generic. The adventure has bullshit perils, generic bad plantlife and lacks any amount of creativity.
But the worst part is that the ending is complete crap. For whatever reason, Smurfette is suddenly immune to a spell from Gargamel because she really isn't a smurf. However, that same spell worked on rats and Gargamel, who also aren't smurfs, so I am not sure why that it is relevant. And apparently what that really means is that Gargamel can't cast spells on her at all. And that is how the plot gets finished, because she saves everyone by tricking him. And it serves absolutely no logic at all.
There are few okay moments and decent jokes, but it is a huge shit show. And it is not because of any human people this time. Also, Demi Lovato as Smurfette is a poor man's Katy Perry. It is true and you know it.
1 out of 4.