The Shack
This is part of Fantasy and Sci-Fi Week at Gorgon Reviews!
Another film to come out in March that I missed, due to the extreme circumstances of birthday nonsense that incorporates that month of my life, when I first saw the trailer for The Shack, I didn't realize it was a religious film.
Yes, even though there was an original song by Faith Hill and Tim McGraw, I didn't realize it was a religious film. Even though it came out right around Easter, I didn't realize it was a religious film. Even though it was about death and overcoming grief, I didn't realize it was a religious film.
I just thought it was a fantasy film. But when I had to see the trailer a second time my wife was there and told me. Whoops. Well, religious films are still fantasy films, so it is relevant enough for me to finally watch it.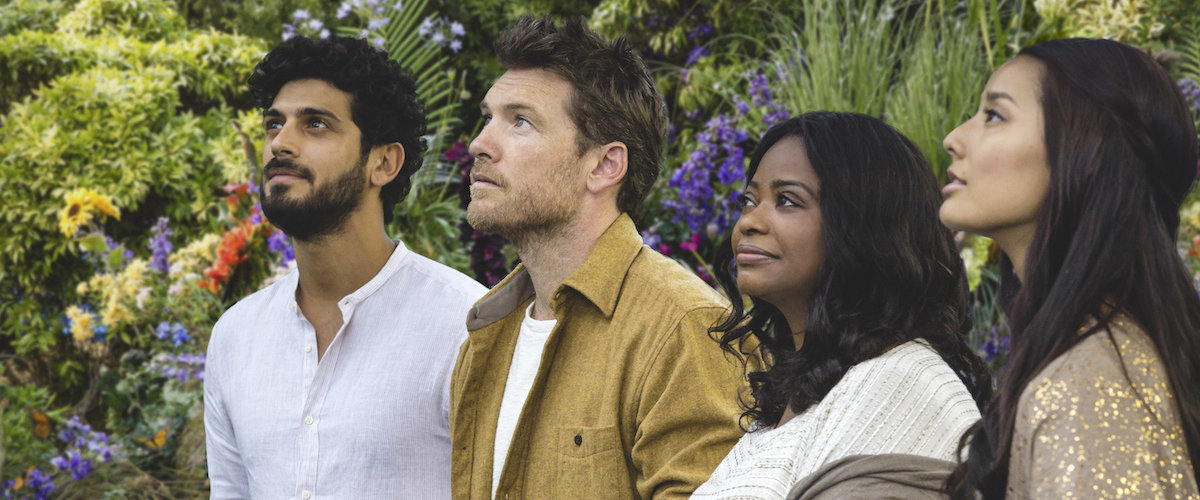 Worst superhero team ever?
Willie (Tim McGraw) gets to serve as our narrator and local church pastor for this film, so I know you are stoked.
This film is instead about Mack Phillips (Sam Worthington), a successful family man at some job, with his wife Nan (Radha Mitchell), and three kids Kate (Megan Charpentier), Josh (Gage Munroe), and Missy (Amélie Eve). Mack had a rough life growing up, when he was a kid (Carson Reaume), he lived with his alcoholic father (Derek Hamilton) and mother. The dad got angry a whole lot, beat up the mom, and beat up Mack. When Mack tried to tell the church, he just got beat up more. Sucks a whole lot.
Either way now he is a happy dad. They still go to church, but he isn't fully into Jesus like his wife. On a camping trip where Nan cannot make it, he is enjoying life with his three kids. When his two oldest get into an accident on the lake, Mack rushes into the water to save them, hooray big hero! But now his daughter, Missy, is missing.
He was barely in the water, it was only a few minutes, yet she is gone and he and the other campers cannot find her anywhere. The police believe it to be a serial killer (!) in the area, who has been taking girls. Days later, they find her clothes and blood in a shack, no real resolution. Holy crap!
Now, months later, it is winter, and of course Mack is still upset. His whole family is, but Mack is more upset at the big guy upstairs. He ends up getting a note to go back to the Shack, and against the wishes of his pastor, he heads up alone, thinking it is the serial killer and he wants revenge.
Instead, he finds a magical cabin, with representatives from heaven who want him to heal. Featuring Octavia Spencer as God, Avraham Aviv Alush as Jesus, and Sumire Matsubara as the Holy Spirit. Also Alice Braga as some sort of judger and Graham Greene also as God.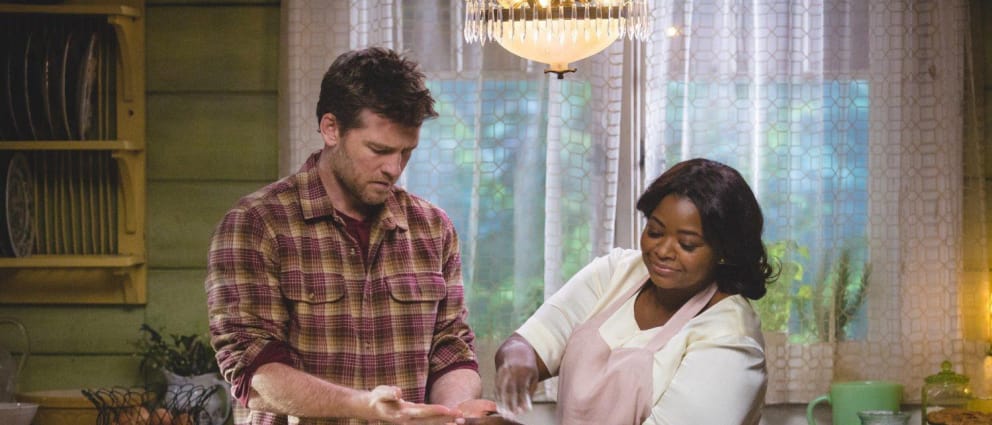 They heal his soul the southern way, with biscuits.
A lot of the problems/issues that the movie have, problems with story structure and more, can unfortunately be written away by spiritual magic. Dream sequences and all of that jazz. Because while watching it, the viewer should be saying "Hey, how can he spend multiple days up here with no one knowing where he is?…Oh. Because it was maybe all in his head real time wise and he never made it to the Shack? Gotcha."
And that takes away from so much. If they dealt with the real consequences of him disappearing it would have added some more real drama to the film. But it gets swept under the rug, we get an hour plus of movie and "growth" from Mack that happens in the span of apparently getting into a car accident and waking up in a hospital. How convenient.
The main message of the film is to live a better life, you need to forgive and forget the bad things and focus on the good. But they chose a really messed up person to preach this too. Yes, they are saying to forgive and forget the dad who beat them. They are saying to forgive and forget a serial killer for abducting, killing, and who knows what else his tiny girl.
I'm sorry, but no. There are bad things in the world, and this film says it is okay, because there are still good things in your life and Heaven awaits. That is a bad message to pass on.
Also, Spencer gets to play neighborly helper woman again, but also as God. She just can't get a typecasted break. At least the Jesus character looks more Jesus-y than normal.
0 out of 4.