March 20, 2012
The Runaways
The Runaways is a movie I could have watched about a year and a half ago, maybe.
But at that point I thought "Man, why would I want to watch the origins of a band that gave me Joan Jett? I don't like Joan Jett." Blah blah, woman power and etc, but man, I really don't like Joan Jett.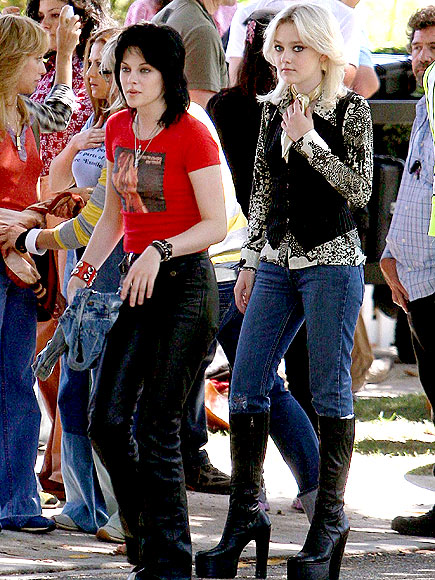 Giant picture, to cover up my biases.
But first, some introductions.
Cherrie Currie (Dakota Fanning) wants to be a rock star and loves David Bowie. She apparently likes singing, despite the fact that early on, she is inaudible and hard to hear. She also has an alcoholic father, and a sister (Riley Keough) who would love to get away from home as well.
Joan Jett (Kristen Stewart) likes guitars and wearing "men clothes!" (leather jacket?!) and meets Kim Fowley (Michael Shannon), a guy who agrees, there should be an all girl rock band! They get Jett, and a drummer, and try to find a "hot blonde singer". Cherrie Currie is found and auditions with a lame song, so they make a new song that becomes their new number one hit.
They also gain Lita Ford (Scout Taylor-Compton) and Robin*.
They become world famous, drugs happen, and crazy Japanese fangirls. They also start to hate each other, mostly Lita hating Cherrie. Eventually she quits the band, ruins the Runaways, and goes back home to live a lame life. Joan Jett just makes her new band and becomes famous. Lita Ford does her Lita Ford things. Robin* dies in a planecrash.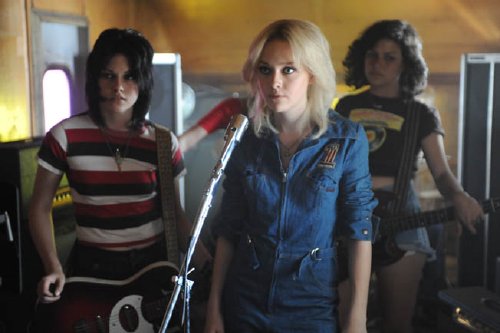 Never to be seen again…
So yeah, teens doing sex things and drugs and touring. The 70s were crazy, man.
* – There is no Robin. She is a fictional character in the band because Jackie Fox did not allow usage of her name.
Why? Probably because Jackie Fox has nothing to do with this movie. Instead of focusing on the whole band (I don't even know the drummer (middle girls) name), it was Jett/Currie. The manager guy who eventually tried to screw them over had more of a screen presence than Ford, Robin, and the drummer.
I didn't hate the performances of the characters though. Felt weird to see Dakota Fanning in a role like that, which is why I am sure she did it. ( "Fuck Typecasting" – Dakota Fanning) The music wasn't that bad either, mostly sure I have never heard of a song by The Runaways before, and it was decent.
Would be glad to never hear Cherry Bomb again though, felt like that song was played too much in one movie.
But I didn't like (obviously) how one sided it all felt. Surely there was more going on than the lead singer doing drugs, failing at life, and then not being a big star for the rest of her life? I think it is why a lot of people disliked The Temptations, because it felt more like The Temptations – In Otis Williams mind. He had the advantage of being the only one left alive though, so why not?
I can't confirm this, but I am sure the rest of the band is still alive. So of course I just looked it up, not the drummer. I guess that explains why I can't even remember her name?
2 out of 4.