Farmland. Farmers. Iowa. Hey, I live in Iowa!
So, I shouldn't have been surprised to find out that there was a huge crowd to see a documentary about farmers. They had the biggest theater in my city and there were barely any empty seats. The only real reason I went is because they were giving away some tickets, free movies yo. Not to mention to excitement of the crowd for a one time only showing of a movie.
They really love their farming here, so hell yeah, let's watch it with them.
Farmland is a pretty basic documentary. Apparently a lot of old people own farm land, and they might die off soon. Not a lot of people are going into the farming industry for many reasons, and eventually there might not be good people to run the land. No farmers? No farms! Oh no!
So this documentary goes over six individuals who are all in various aspect of the farming life, and all under 30.
Brad Bellah Rancher in Texas. He wears a cowboy hat, grew up being a rancher, and still raises cows with his new family. Leighton Cooley from Georgia, who raises Chickens and other minor crops. Has a huge farm area, second generation I think. There is David Loberg, a Nebraskan who raises corn/soybeans, also at least a second generation.
We have Sutton Morgan from California, fourth generation, but doing huge organic farms and is very successful. Margaret Schlass a first generation woman in Philly, doing organic stuff also, but more small time and co-op based. Finally, we have Ryan Veldhuizen, a Minnesota native fourth generation pig farmer.
Yep. No one from Iowa. Denied!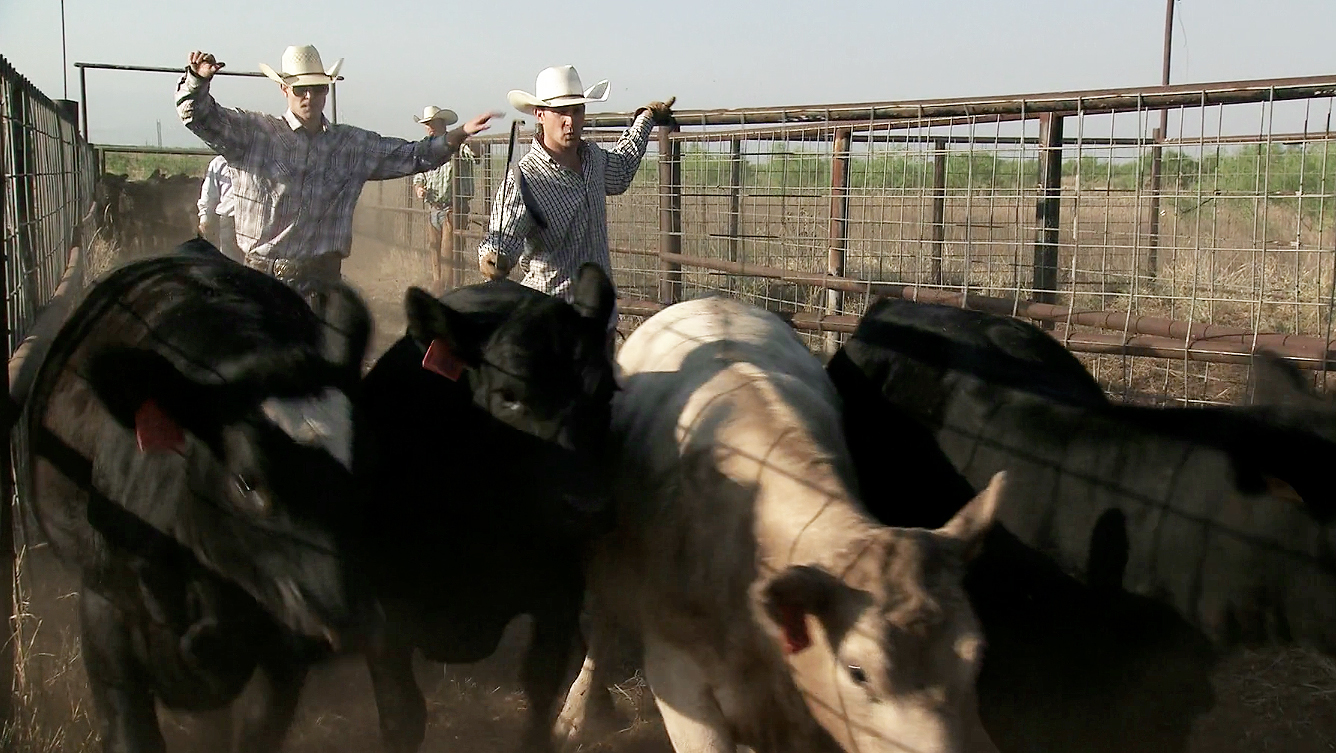 Cowboys, cowboy hats, and cows? Is this my future calling?
This documentary was made to inform the general public about the wonders of farming, the hardships, and the fact that they aren't just a bunch of dumb hicks. It is to get younger people interested in the profession and save America's farming future!
But man, from someone without much of a farming background, it was just okay. It had some funny moments, but I wouldn't say I learned a lot either. I guess it was okay to see their lives, and what they did throughout a year, but eh, still not really too interesting for me.
It did have some sweet moments too, particularly with the Nebraskan farmer. His dad died a year before the film, so they talked about him a few times and how he took over the business. Then there was a moment where he tried to explain a specific moment from his past, and he just started to babble incoherently, fighting back tears. It was extremely hard to not cry along with him. I looked around the packed theater? Dozens of teary faces in my vicinity. Very touching, but doesn't make the movie great.
I can tell you if you grew up near farms or plan on going into farms, you will love this movie. The theater clapped at the end. Huge ovation over a documentary about farming. I guess that is what happens when you watch a movie like this in Iowa.
2 out of 4.