The story of It affected my childhood, without ever seeing it. I recognized it as a scary movie with a clown based on its advertising. But I heard other things about the miniseries. First, that it was an incredibly long movie! It had TWO VHS tapes, and I didn't know it was made for TV and over two nights. The idea was unheard of for me (because at that young age, I didn't know there were movies over 3 hours long).
I was also told that It wasn't really a clown, but a spider. I don't know if I can verify that still, I just still believe it because I was told it and fuck, spiders are scary.
And I almost read It. Or at least audiobook'd it, planned on doing it after The Hitchhiker's Guide to the Galaxy books, but had such a disappointing time with them that I switched to authors that I knew and it was on the back burner. Now, in retrospect, I am glad I never read It, because now It is now a new movie, and I don't need some silly source material mucking up my experience. With the sequel coming out in a few years, I will just have to hold off on that book for a few more years, and then, maybe, I will finally give Stephen King a chance.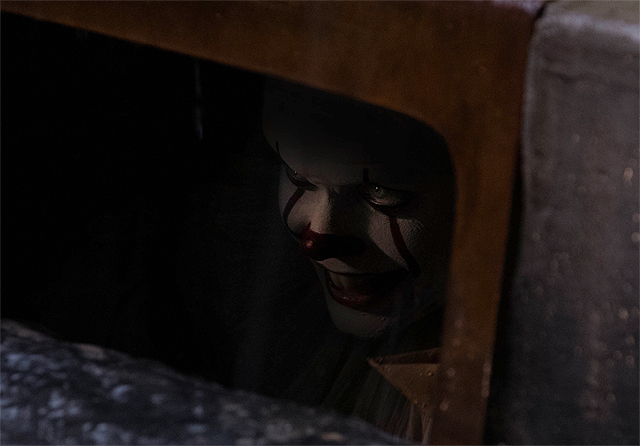 I didn't grow up in the gutter like this clown thing, but I did once go to a night club called Da Guttah.
In the small community of Derry, Maine, a sinister entity lives and preys on children, much to the apathy of the citizens there. Poor little Georgie (Jackson Robert Scott) is his first victim, and he just wanted to play with a boat in the rain. Well, after that, our film flashes to the end of that school year, with Georgie's older brother, Bill (Jaeden Lieberher), still shook up by his brother's disappearance, but his family seems to have already moved on. And it isn't just Georgie. Other kids have started disappearing, at a seemingly alarming rate, but again, the community just shrugs its shoulders.
And with this summer vacation, Bill wants to use this extra time to map out some sewers or the nearby quarry to search for his brother. His friends include Richie (Finn Wolfhard), a smart ass with a loose mouth, Eddie (Jack Dylan Grazer) a hypochondriac thanks to his mother, and Stanley (Wyatt Oleff), who is Jewish, and that is his characteristic that matters I guess. They are quickly joined by a few other "misfits" in their community, Ben (Jeremy Ray Taylor) who is fat and a new kid, and Beverly (Sophia Lillis) a girl who lives in an abusive home and who is rumored to be a slut. It takes a lot longer in the film before we are also joined by Mike (Chosen Jacobs) who is home schooled and black, but completes their little posse.
And hey, eventually they all start getting strange events happening to them. Visions of a clown who wants to eat them, or other fears rising out and seeming so realistic. Good old Pennywise (Bill Skarsgård), with his clown makeup and sharp teeth. He took Georgie! Through some research they find out that something terrible happens in their town every 27 years or so that takes out a lot of kids. It is surprising that no one has connected the dots. But they need to work together and over come their fears to stop this terror, if they want to survive and protect the future of Derry, Mai
Also featuring a few chaps as older kid bullies: Nicholas Hamilton, Logan Thompson, and Jake Sim.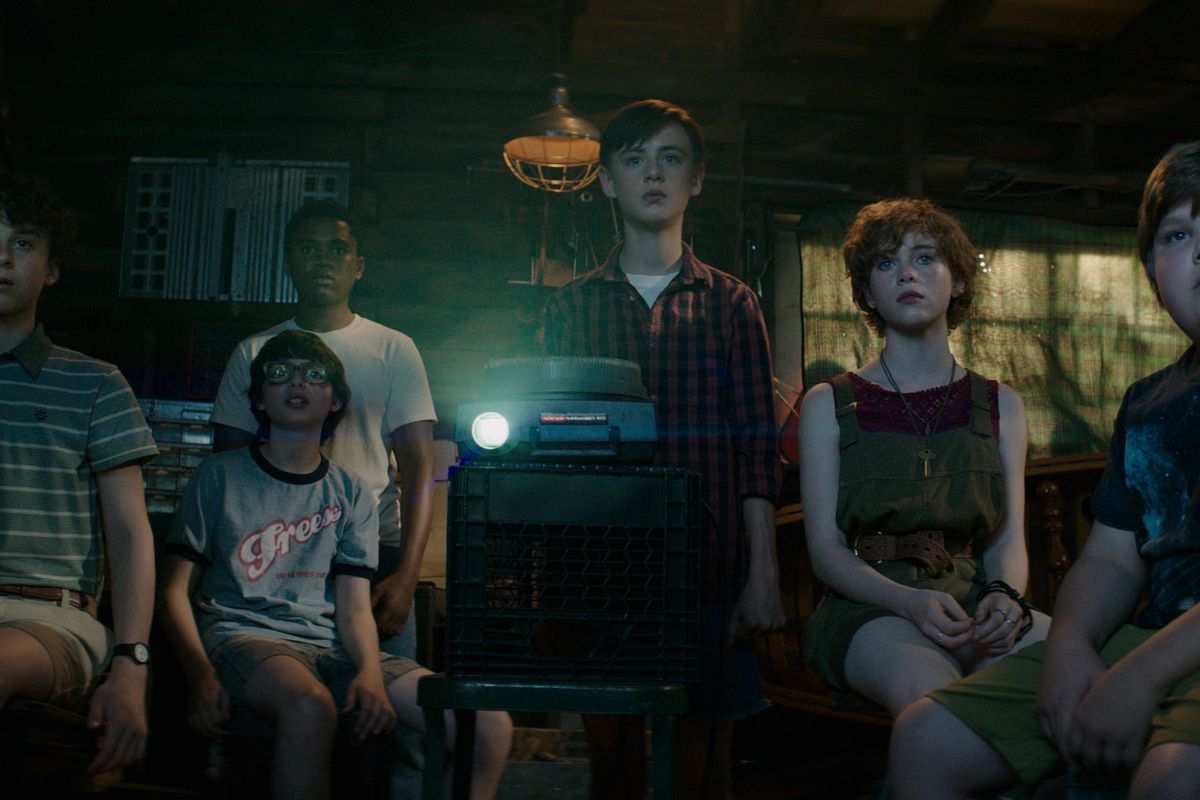 And in this scene, the kids recreate their favorite movie from the future: Sinister!
By the time you are reading this review, It has already been out for a few weeks and you have already heard good things about It. You know It is good, you have statistically probably already seen It. The film is fresh, well shot, scary and ominous when it needs to be, and it feels like there are really kids running the show.
And kids running the show leads to a few of the small issues I had. Kids are stupid, so we are allowed to accept it when they do something stupid during a scary situation. That is the worst part of horror movies, watch a character who has shown to be one who uses their brain, who throws it all out of the window when they get a spooks or when they choose to investigate something odd. So much of the plot moves just due to characters being dumbasses that it is frustrating.
The film is decently scary, and again, great to look at. The Georgie scene to start the film really set the tone and also would quickly position itself away from the previous iteration for those who loved the original. With a large cast of characters, I am surprised that so many actually felt like real people. Unfortunately some of the lesser group members, namely Mike and Stanley, feel like they are limited by their obvious differences instead of actual personalities or story lines.
I am still excited for a sequel and thought it was a lot better than a lot of other recent horror films, but at the same time, it is limited in scope based on the story of the book I guess. I just want people to do the right/smart thing every once in awhile.
3 out of 4.