April 15, 2020
Selah and The Spades
Another week, and surprisingly, another new movie review.
Selah and the Spades I don't believe was negatively impacted by the theaters going down. I didn't hear about it until that started, but when I first heard the news, it was only to hear that it was being released on Amazon Prime instead of theaters, on April 17th.
This is not a film that you have heard of before likely, with a mostly unknown cast. It does have Jharrel Jerome as a supporting role, and he made waves last year starring as Korey Wise in When They See Us last year. You know, the kid who got screwed over the most.
And all of that has nothing to do with this movie!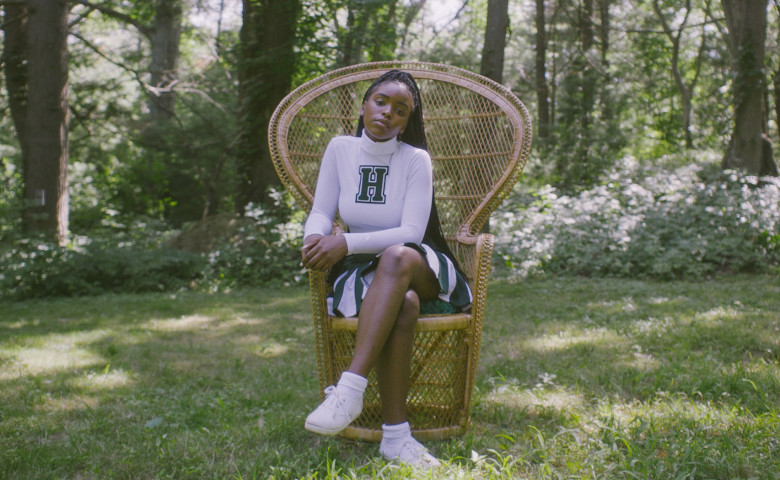 There is a lot of fierce power in that chair.
Selah (
Lovie Simone
) is a strong woman, a senior in high school. She goes to an elite boarding school in Pennsylvania, where most of the citizens are from wealthy families looking for a leg up into college. Other bright minds get in through scholarships and grants. Selah comes from an overachieving household, her mom wants her to go to her former school, and to load up on the best classes, the best grades, no matter what.
The school also has their own hidden clubs. They handle some of them ore illicit activities, like distracting the admin, holding parties, etc. Selah? She is the lead of The Spades group, who handle the illegal drugs and alcohol on campus. They do all of the deals, get the product, make the money. They split responsibilities and have council meetings to work together so that no more "wars" take place on campus, which usually lead to many expulsions, or worse.
When Paloma (Celeste O'Connor) comes to campus mid year, she is seen as a promising student who can join in their creepy club games, but Selah definitely takes a liking to her. Selah is strong, but hates having those under her excel. It is hard for her to trust, and she doesn't have a backup to take over when she leaves. It is time for the grooming, and for her to sink or swim.
Also starring Jharrel Jerome, Ana Mulvoy Ten, Jesse Williams, Nekhebet Kum Juch, Francesca Noel, and Henry Hunter Hall.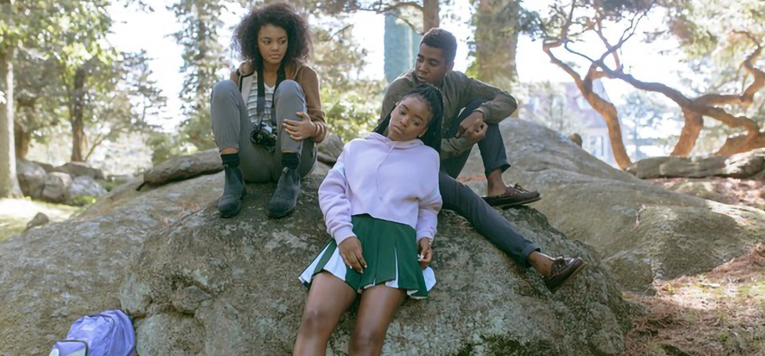 This rock rocks.
Selah and the Spades, on one hand, is another clique teenage film. I mean, these cliques don't circulate the entirety of the campus (although, cliques are usually small anyways). It is a boarding school, so it can pretend to be like a college film with more underage problems. The cliques have cute names!
But here are some difference.
There is one very strong scene early on where the Selah and the other cheerleaders are talking to the camera, breaking the wall, about being strong women and it was really really good. It seemingly came out of nowhere, but it had important messages that needed to be discussed.
We do also have a predominately more person of color than most school clique films. Yes, they are all for most of history super white. It is great to see representation, even if this representation for the most part still talks about people with privileged.
I really enjoyed Simone in the lead role hear. Selah is not a one dimensional character at all. She is more than a strong woman. She has fears, she has definite trust issues, and definite weakness. I definitely sort of hated her at points, and it is great to realize she is in no way the hero of the story. O'Connor comes in and gives a very great performance opposite of Simone's, that newcomer feel while also knowing full and well who she is at the same time.
Overall, Salah and the Spades gives us a unique perspective on a tired clique, and falls firmly in a drama category to tell a serious story. It reminds me in a bit of Dear White People, due to topics only, because in terms of genre and goals, they are very wide apart.
3 out of 4.