February 11, 2012
Machete
The making of this movie started out as a joke, but ended up, well, still a joke. The Grindhouse movies that came out awhile ago came included with multiple fake trailers. I personally wanted to see the one involving a Pilgrim horror movie, about Thanksgiving. But the most popular of these was a gritty action movie called Machete, starring Danny Trejo. If you have a daily motion account, you can watch the first and arguably fake, trailer here.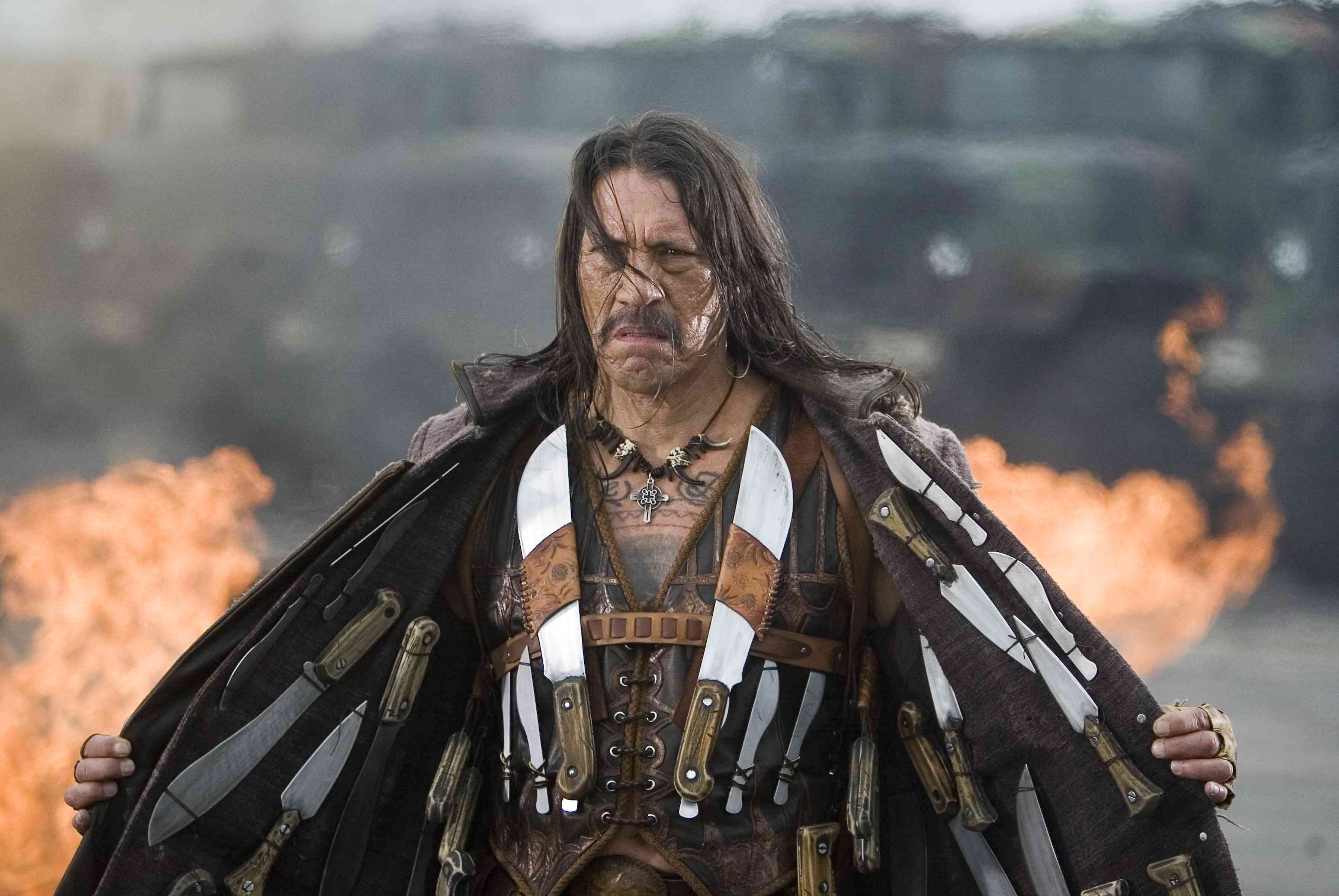 But why do they call him Machete?
Machete used to be a Mexican Federale, but was betrayed on a kidnapping mission by the chief, Steven Seagal, who also had his wife and kids killed. Years later he is wandering Texas, doing small work, until Jeff Fahey gives him an offer. The Senator (Robert De Niro) is running on re-election and planning on deporting a whole mess of illegal aliens, and he wants Machete to assassinate him.
But while he has him in the scopes, he finds himself shot in the shoulder by a second sniper, who then also intentionally misses the senator. Ah! Jeff Fahey is an asshole! He set up Machete, to make it look like he, an illegal alien, tried to kill the senator who was trying to stop illegal immigration!
Well Machete escapes, and goes into hiding, into an organization lead by Michelle Rodriguez for illegal Mexicans, and with the help of Cheech Marin, a priest. While Fahey's henchmen are trying to stop him, Jessica Alba is working as an immigration officer, trying to get to the bottom of it. Oh yeah, Lindsay Lohan plays the daughter of Fahey, whom ends up having a sexual encounter with her mom and Machete, before he kidnaps both of them.
So yeah, the movie involves trying to shed light to what Fahey/De Niro attempted, and free Machete from blame. But if he can also somehow deal with Seagall and the Mexican Cartel at the same time, why not? If anything, it probably means more killing and death.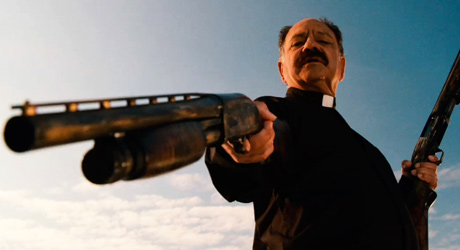 "God has mercy. I don't!" – Actual awesome quote.
So, I know exactly what this movie was going for. Gritty feel, fake trailer, over the top action, nakedness, whatever. It certainly tried. I just think it could have been more over the top. I don't think it went far enough. The film obviously had a big political message attached to it, and that annoyed me. I wanted a more carefree mindless action thing, not them attempting to do a political plot. Generally when action movies only try to do a plot, it comes off worse than no plot, or a really good plot.
That is why my rating is low. I think it could have been more awesome.
1 out of 4.