December 16, 2011
Glee The 3D Concert Movie
Alright, so obviously, this movie/concert is for fans of Glee. If you don't already like Glee, you have no reason to watch this movie. Probably won't enjoy it. It would be weird!
So pretend this review of the 3D Concert Movie from a person who is a fan of Glee.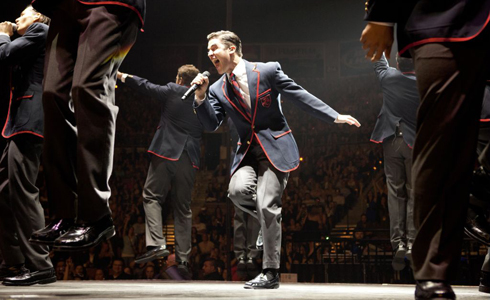 And a fan of the "Wharblers" who yes, are in this special as well.
This movie had a few technical problems with it. Video quality wise, some cameras were great, and it popped on Blu-Ray. And other cameras that they used were super grainy. Not what you expect in a "Blu-Ray movie". Similarly, the sound wasn't as high quality as it could have been. Could be a product of the live concert-ness. But I have a pretty good surround sound set up, and it got crackly and awkward at parts, which is bad for "jamming".
The concert also had three side stories of "diverse" fans, a midget cheerleader, a big girl with Aspergers, and a gay black kid from middle school. We (had) to hear their stories and how Glee made it better, along with random fans throughout with quick quips on what they like, etc. You know, standard concert movie annoyances.
The clips they had backstage I was hoping for more real look at the cast members, but they were still playing their roles, not themselves. That was disappointing.
The songs that made it onto the movie in order are: Don't Stop Believing, Sing, Empire State Of Mind, I'm A Slave 4 U, Fat Bottom Girls, Don't Rain On My Parade, PYT, Ain't No Way, Jesse's Girl, Valerie, Firework, Teenage Dream, Silly Little Love Songs, Raise Your Glass, Happy Days Are Here Again / Get Happy, Safety Dance, Lucky, "Forget" You, I Want To Hold Your Hand, Born This Way, Loser Like Me, and Somebody To Love after the credits.
The most impressive fact about this is that it is almost all of the CD of the concert. 22 of 23 songs, just missing Dog Days Are Over (in special features, along with Friday, which isn't on the CD (and Acoustic)).
As far as individual songs go, the Wharbler songs were good. Gwyneth Paltrow. The dancing was generally good. Songs were usually good, minus the sound quality parts. I was also disappointed that the "Vague backup vocals" that are obviously not the actual other glee members in the show, were played during the concert as well for some songs.
I am not a fan of the song "I'm A Slave 4 U", but holy shit, Heather Morris was way super hot in this high quality movie.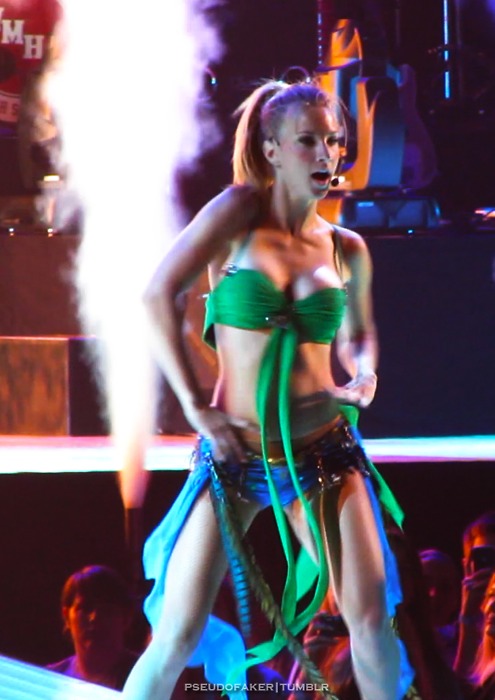 Good old fashioned family entertainment.
I was also hoping Mathew Morrison would be there to sing songs, but just like season 3, they seem to be trying very hard to make sure he doesn't have much singing anymore in the show.
Again, as a glee fan, the concert was just okay. Had enough technical problems to bug me, and would only warrant one viewing. Damien McGinty was also shown in the audience, with a quick 1 second cameo.
2 out of 4.