Without a doubt, snowmen have always been scary. We had that Jack Frost horror movie, and that other Jack Frost horror movie, all about snowmen!
My first real interactions with snowmen and music however, have also been terrifying. After all, in Cannibal! The Musical we were given the hellish tune of Let's Build a Snowman, multiple decades before Frozen came onto the scene with their snowman song.
Apparently this one was based on a book, but I am sure The Snowman was supposed to be scary as well.
Is this an alien snowman? Is this movie actually supernatural?
Norway. Winter. It's cold everywhere, it snows all the time. Basically, everyone is a snowman if you think about it.
And Harry Hole (Michael Fassbender) is a detective for the main Norway police people, and yes, that is his name. He is good at his job, but he also is a bit of a drunk and going through a life slump. A new recruit to their agency is Katrine Bratt (Rebecca Ferguson), who has a lot of spunk and drive. She thinks a series of disapperances are similar to a few done years ago in a different Norway town, so she is ready to investigate!
Aw, so young and naive. And maybe oh so right.
A few murders, a few snowmen based deaths, and sure yeah, I am sure someone is behind it and just fucking with them all. And to think it is happening as they are trying to finish a bid for some non Olympic winter games event too.
Also starring Michael Yates, Ronan Vibert, Chloe Sevigny, Charlotte Gainsbourg, David Dencik, Jonas Karlsson, Toby Jones, Val Kilmer, and J.K. Simmons.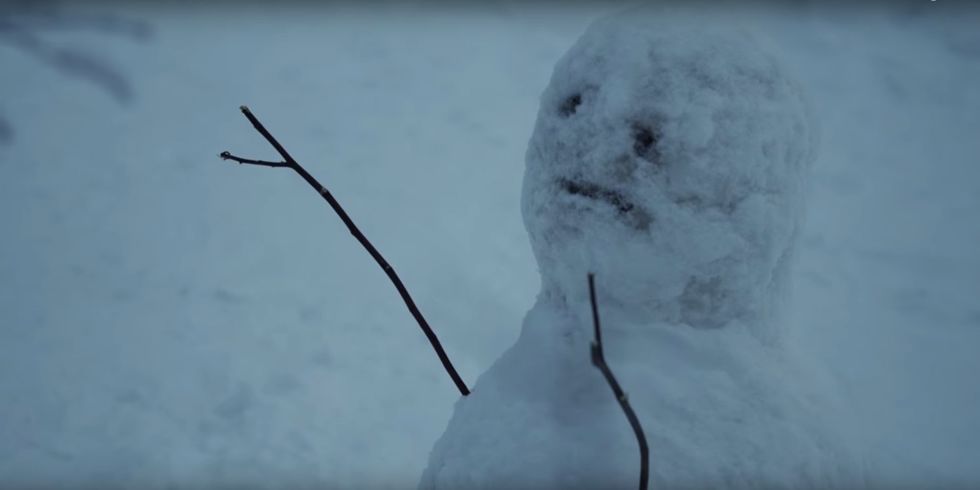 I think this is the first time I have ever seen the :/ used in any real context.
In The Snowman, there is a good mystery plot in there, somewhere. A lot of it may have been on the cutting room floor, or it may have never gotten shot. According to the director, he talked about why the movie was terrible, before it was even released in America. It was released a week early in Europe and met with so many bad reviews he just had to admit the whole thing I guess.
It quickly went from a "I can't wait to see this film!" moment to "Oh man, how much of a train wreck will this be? Can't wait!" feeling. And trainwreck it was.
Which is a shame, because Fassbender isn't acting bad in the film or anything, it is just the plot is so shitty. There are motivations behind the characters, but the herring is so red it should almost be a scarlet herring. Or bloody herring. So much side plot is technically relevant, but so badly explained it just feels slightly shoe horned. And when we get our big dramatic reveal (which isn't too hard to guess), it is explained so poorly it just feels. Well, badly written.
Which is a shame, because the novel by Jo Nesbø I am sure is really swell. He has written a lot of books, so he must have some talent. But now my introduction to his work just smells of…wait. Herring. Yeah, it smells like old yucky herring.
The Snowman is poorly put together work of film, despite some cool elements. Probably just avoid this one forever and read the book instead.
1 out of 4.